La Concordia Amphitheater | colab-19
PROJECT CREDITS
Project Name: La Concordia Amphitheater
Year: 2020
Area: 154m2
Design Collaborators: Colab-19 + Taller Architects + SCA
Web page: www.colab19.co
E-mail: link@colab19.co
Instagram: @colab19_arq
Country of office: Colombia / England
Photography by: Alberto Roa
Colombia
Bogota
版权声明:本链接内容均系版权方发布,版权属于colab-19,编辑版本版权属于设计宇宙designverse,未经授权许可不得复制转载此链接内容。欢迎转发此链接。
Copyright Notice: The content of this link is released by the copyright owner colab-19. designverse owns the copyright of editing. Please do not reproduce the content of this link without authorization. Welcome to share this link.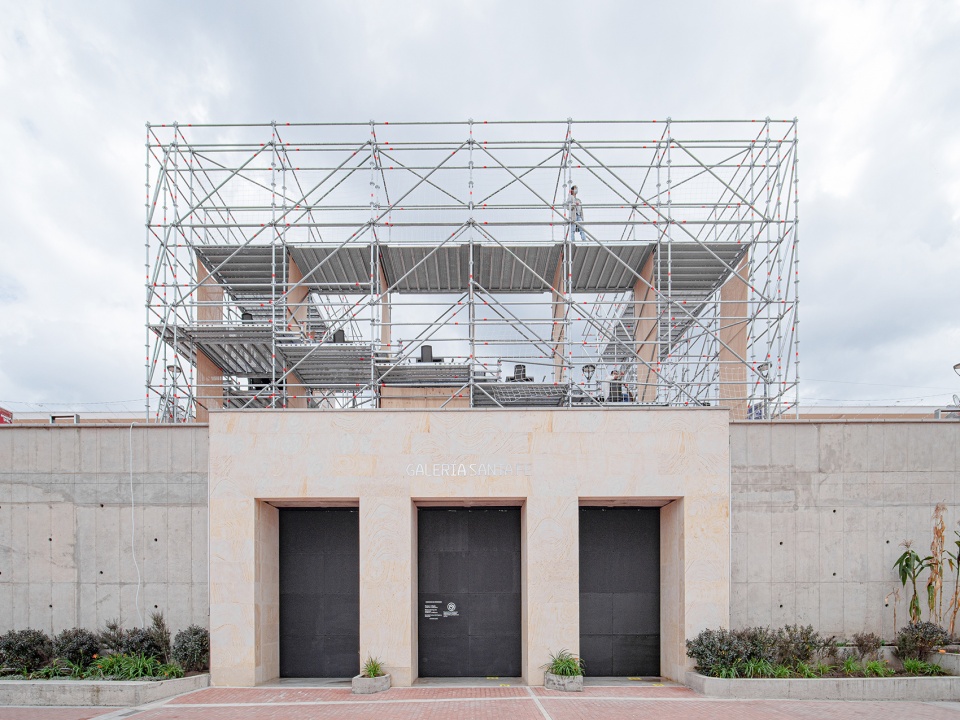 © Alberto Roa
Bogotá is a city that has been gravely affected by the pandemic, not only has the city had one of the longest forced quarantines since the beginning of the pandemic, but it is a city where the vast majority of the population cannot work from home. This has led to an internal socio-economic crisis where several sectors have been gravely damnified. As an example, 40% of the cities restaurants have been forced to shut down leaving thousands unemployed. As such, On the 4th of September, the local government launched the program "Bogota a cielo abierto" the reopening of 100 streets for outdoor dining and reactivate their services.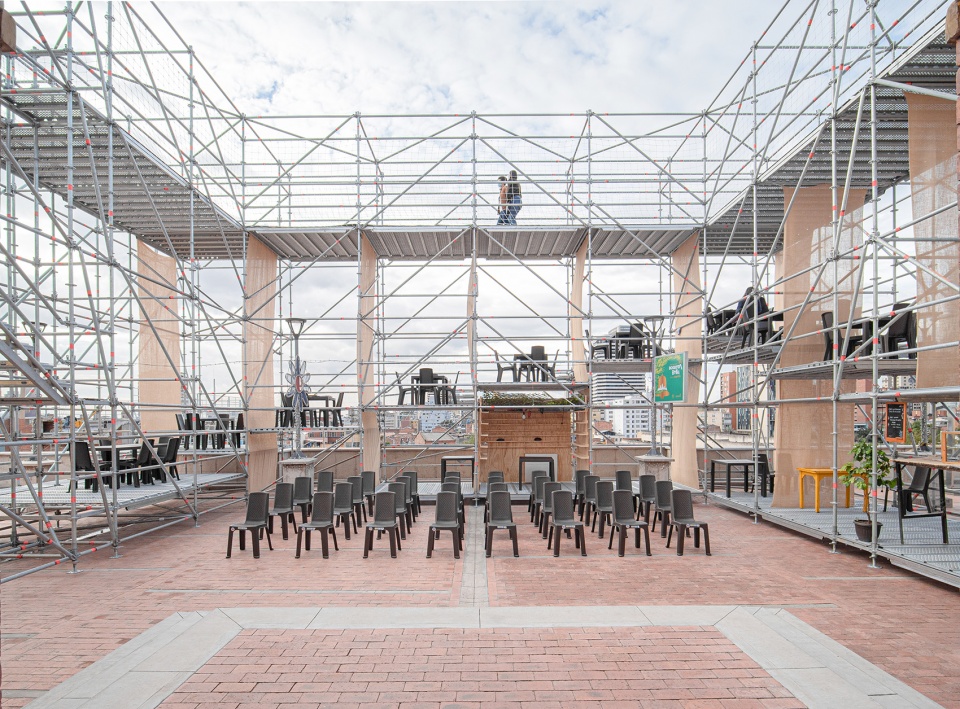 © Alberto Roa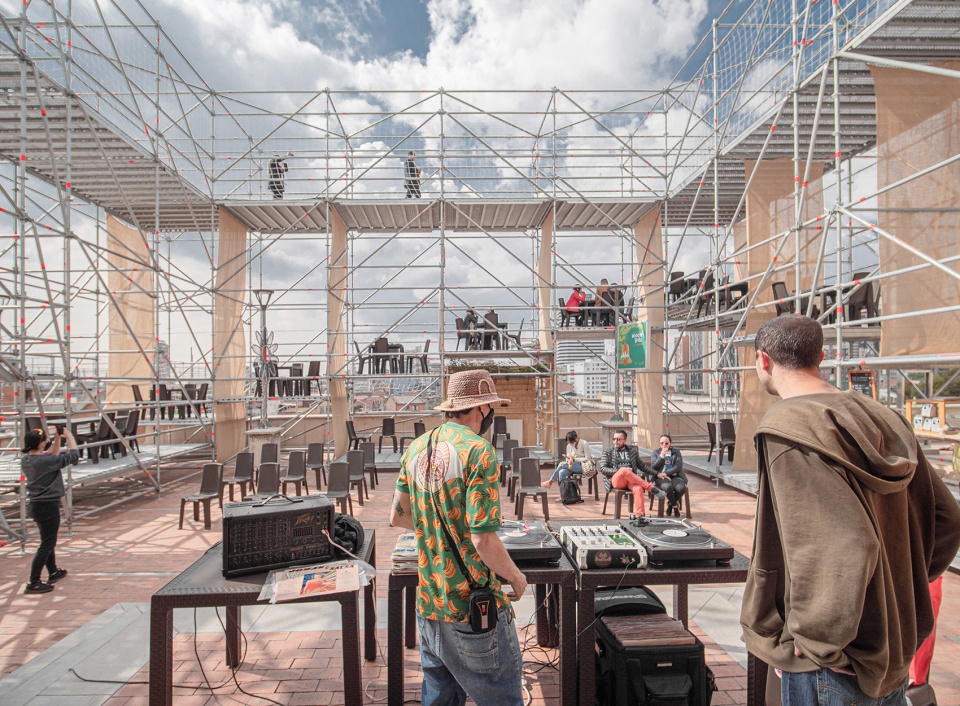 © Alberto Roa
Moving forward in the initiative to reactivate economic sectors in the city of Bogotá, the local government contacted the design team summoned by the Colombian Society of Architects to carry out the designs for "La Concordia: Amphitheater". Learning from their previous intervention, "La Perse", the team concluded that the success of their previous design was due to the concept of vertical distancing through scaffolding systems. This significantly helped the Perseverancia Market Plaza increase table capacity during pandemic times.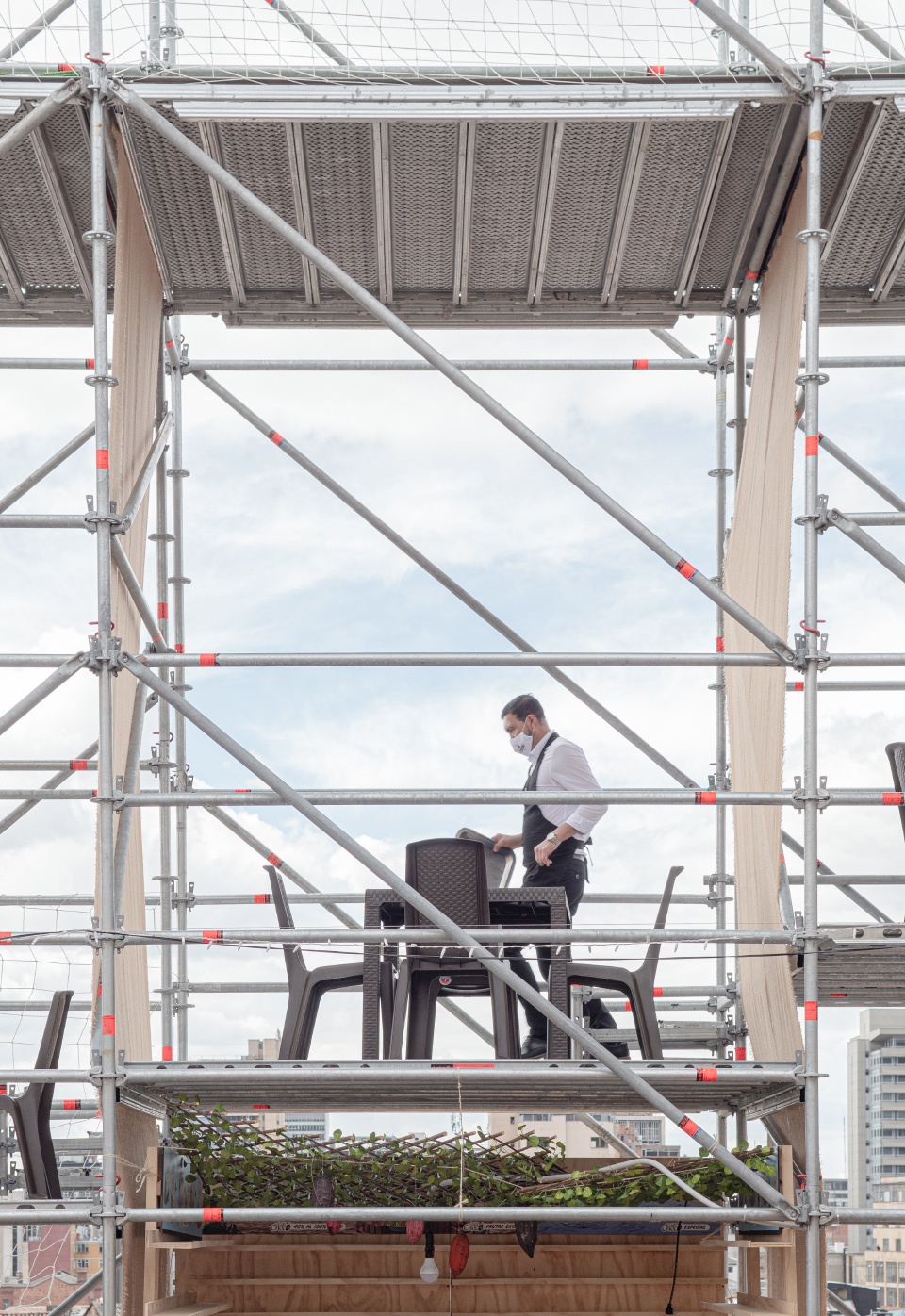 © Alberto Roa
As such, when the Concordia Market Plaza contacted the Colombian Society of Architects to develop a similar installation in their open spaces, the team knew they were asking for a similar design to "La Perse". The main difference between the two market plazas, and the resulting design, was due to their difference in uses. In the Perseverancia Market, there are only uses related to gastronomy, conversely, the Concordia plaza has diverse uses dedicated to commerce and entertainment (theater & art gallery).
© Alberto Roa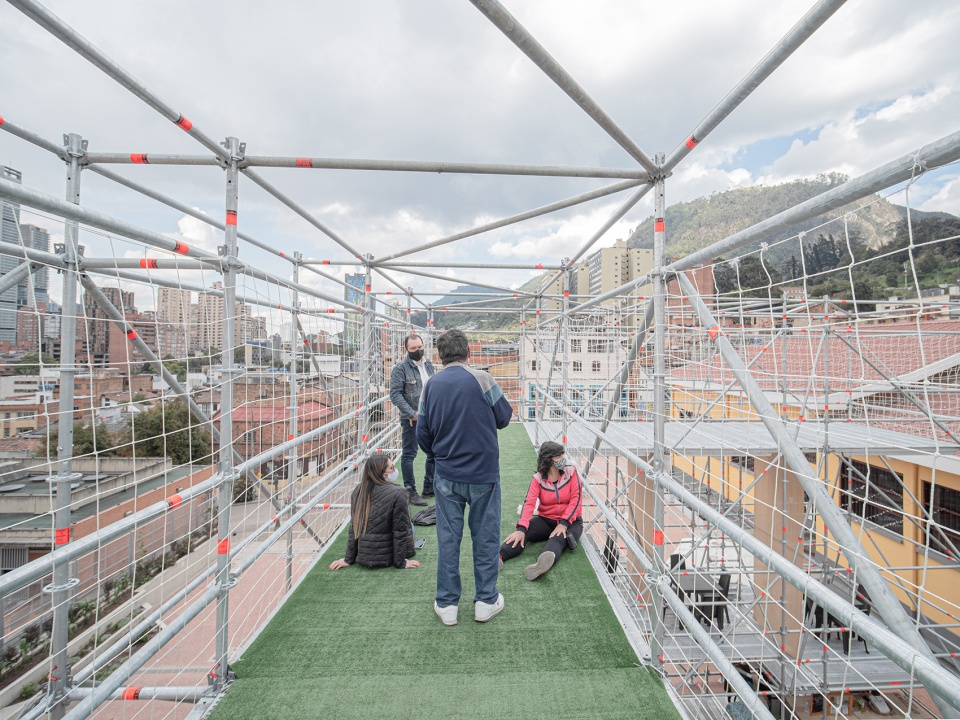 © Alberto Roa
Therefore, Colab-19 concluded that the new design should show the diverse uses and cultural significance present in the plaza. Consequently, the envisioned design was a flexible amphitheater able to offer outdoor dining, retail, and entertainment activities. The typology of the structure in "U" shape is open to the entrance of the building, enhancing the facade as the principal scenario able to host any performance, concert, or even a religious event thanks to the flexibility proposed by the architects.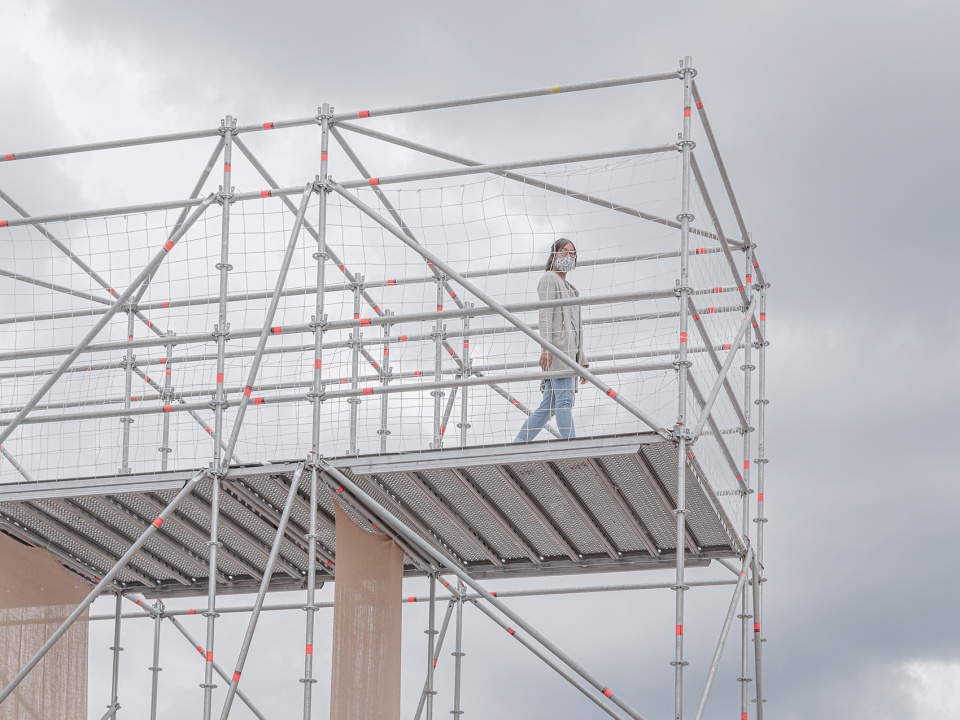 © Alberto Roa
The first platform of the structure is open to the public with local retail shops. In regards to the gastronomic uses of the plaza, the concept of "inhabitable staircase" allows the outdoor dining on the second floor to have appropriate physical distancing between tables. One thing the team learned from the previous project, "La Perseverancia", was that the installation itself was privatizing public space. This led the architects to create the top of the Concordia structure an accessible rooftop open to the public. Making it possible for every citizen to enjoy the panoramic view of Bogota.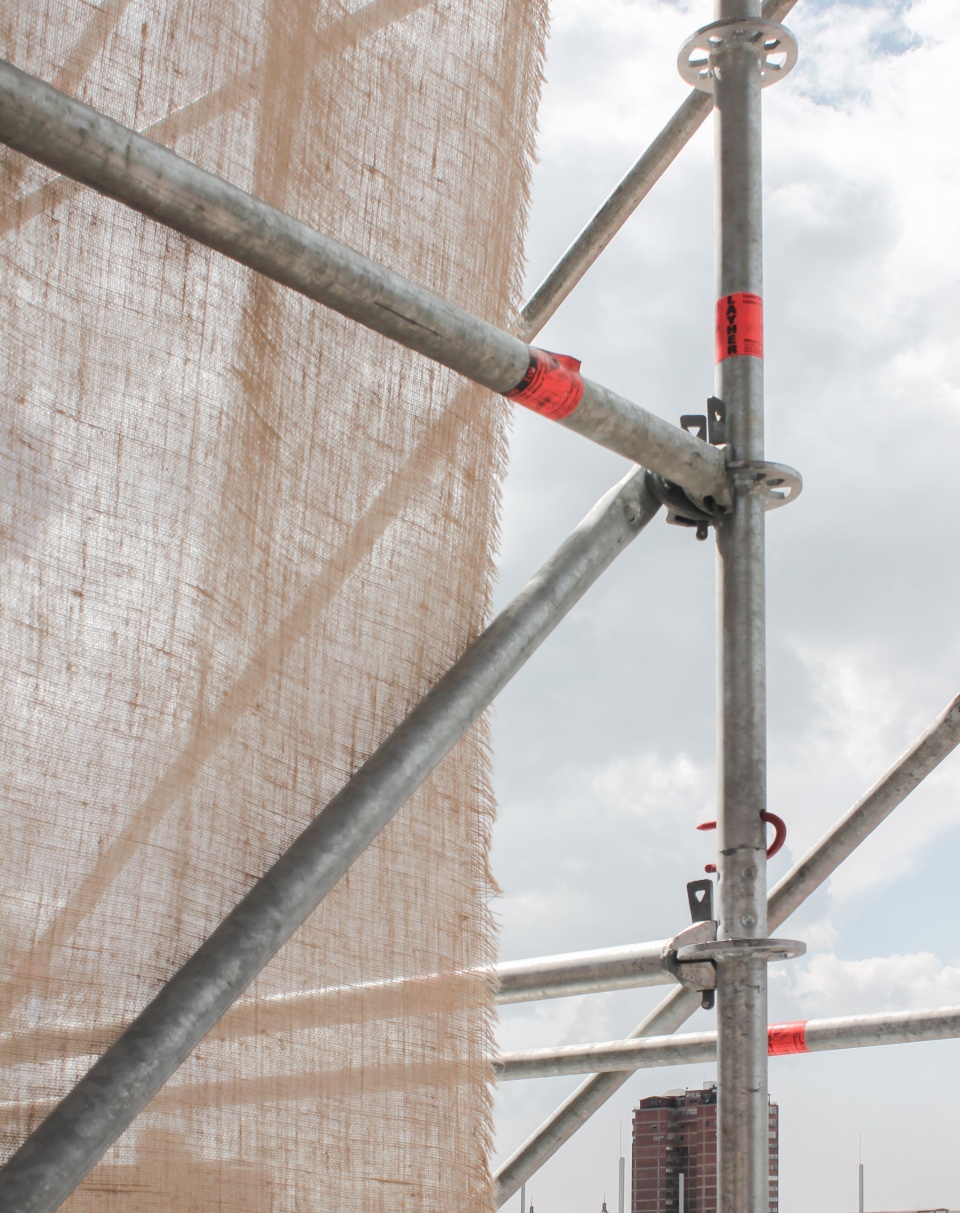 © Alberto Roa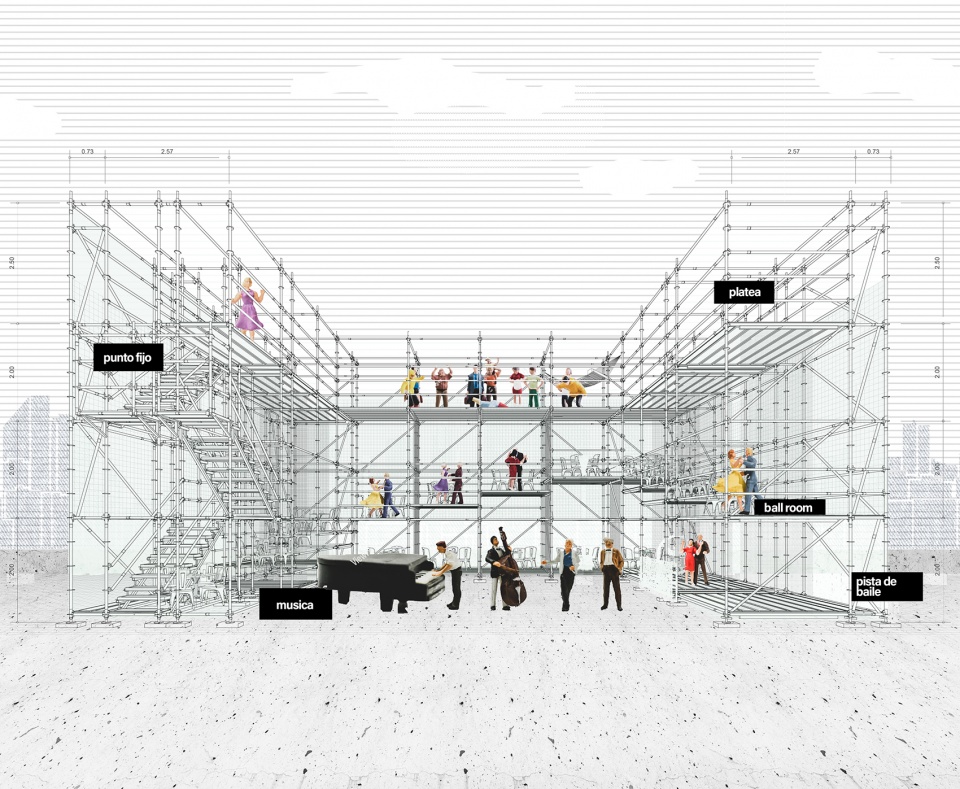 Sectional Perspective © Colab-19
标签
# Architecture Design
# 临时建筑
About author
Comment
Case recommendation

More

(0)