Auric Hall | IMK Architects
PROJECT CREDITS
Typology: Commercial
Name of Project: Auric Hall
Location: MIDC, Auric City, Shendra, Aurangabad
Name of Client:  AITL – Aurangabad Industrial Township Limited
Name of Client's Firm:  Aurangabad Industrial Township Limited
Contact Person: Heera Mohan
Address: Udyog Sarathi, Mahakali Caves Road, Andheri (East), Mumbai 400 093.
Tel No: +91 80950 04923
Email: heera.mohan@auric.city
URL: https://www.auric.city/content/AURIC-Hall-6456
Principal Architect: Mr. Rahul Kadri
Design Team: Anuprita Dixit, Bhumika Ganjawala, Heena Shaikh, Suvidha Mhatre, Tejashree Rajeshirke
IMK Business development Architect- Preeti Valanju
IMK Engineer - Harish Vyas
Site Area (sq ft & sq m): 154172 sq.ft  & 14323.04 Sq.mt
Built-Up Area (sq ft & sq m): 179334 sq.ft & 16660.67 sq.m.
Start Date: October 2017
Completion Date:  April 2019
Photographer: Mr. Rajesh Vora
India
Aurangabad
版权声明:本链接内容均系版权方发布,版权属于IMK Architects,编辑版本版权属于设计宇宙designverse,未经授权许可不得复制转载此链接内容。欢迎转发此链接。
Copyright Notice: The content of this link is released by the copyright owner IMK Architects. designverse owns the copyright of editing. Please do not reproduce the content of this link without authorization. Welcome to share this link.
Street View by Day ©Mr. Rajesh Vora
The recently completed Auric Hall stands tall today as a landmark for Aurangabad Industrial City (AURIC), India's first greenfield, smart industrial city. The 16,660-square-metre building, planned as the face of the upcoming development, houses administration and commercial functions, offering spaces that strive to achieve innovation and transcend expectations.
Entrance Gate ©Mr. Rajesh Vora
Night View ©Mr. Rajesh Vora
Street View by Night ©Mr. Rajesh Vora
The design pays homage to the rich culture and history of Aurangabad while creating a timeless exemplar of beauty and sustainability. A distinctive jaali screen made in Aluminium that wraps the building adapts motifs from traditional Mughal architecture, the resultant choreography of light and shadows creating a fascinating narrative. It also minimises solar heat gain and controls airflow through the building, regulating internal temperatures.
Aluminium Facade Screen Detail ©Mr. Rajesh Vora
Front View ©Mr. Rajesh Vora
Glass and Screen Facade Detail ©Mr. Rajesh Vora
Entrance Pavillion ©Mr. Rajesh Vora
Pavillion Detail ©Mr. Rajesh Vora
Auric Hall also aims to enhance engagement between the state and its people. A large atrium is designed as a modern interpretation of the garden; overlooking a lake and bathed in glare-free North daylight, it provides a host of public exhibition and educational functions. It is enclosed by offices and indoor terraces on three sides, which themselves serve as social spaces for employees, encouraging cross-engagement and collaboration and becoming a vibrant centre of activity.
Interior Atrium ©Mr. Rajesh Vora
Interior Atrium ©Mr. Rajesh Vora
Interior Lobby ©Mr. Rajesh Vora
Terrace ©Mr. Rajesh Vora
Interior Lounge ©Mr. Rajesh Vora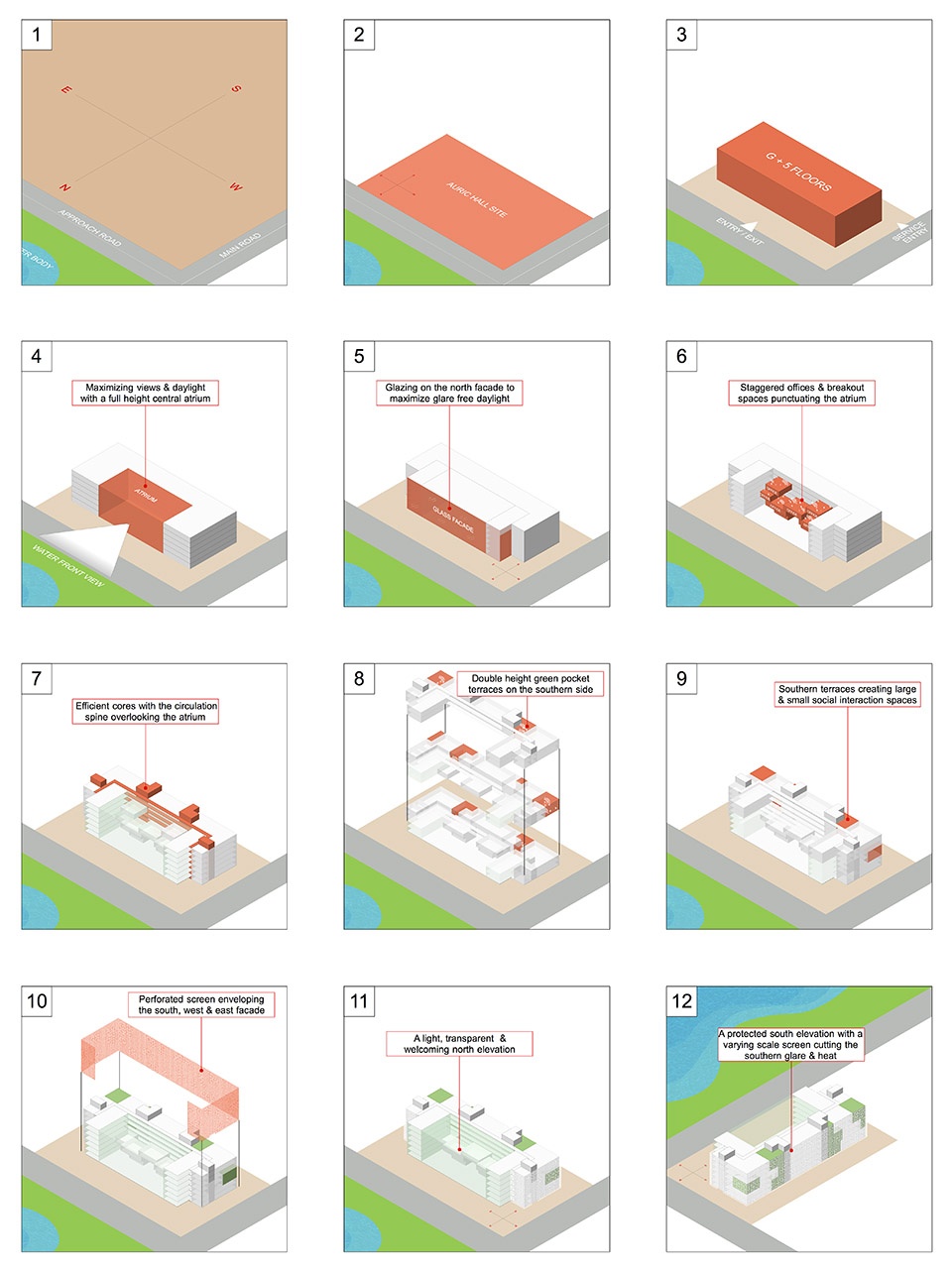 Generation of the Volume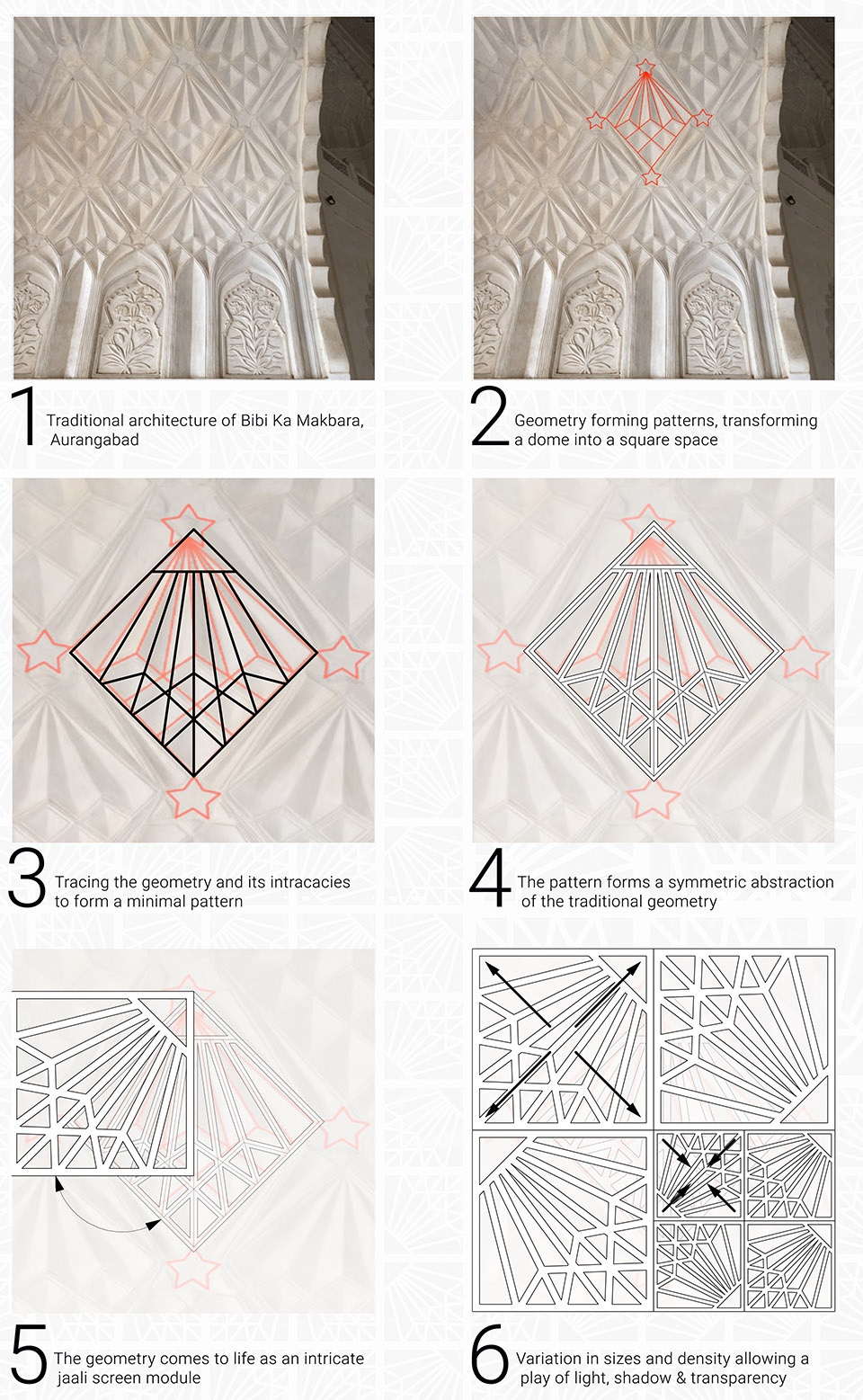 Generation of the Pattern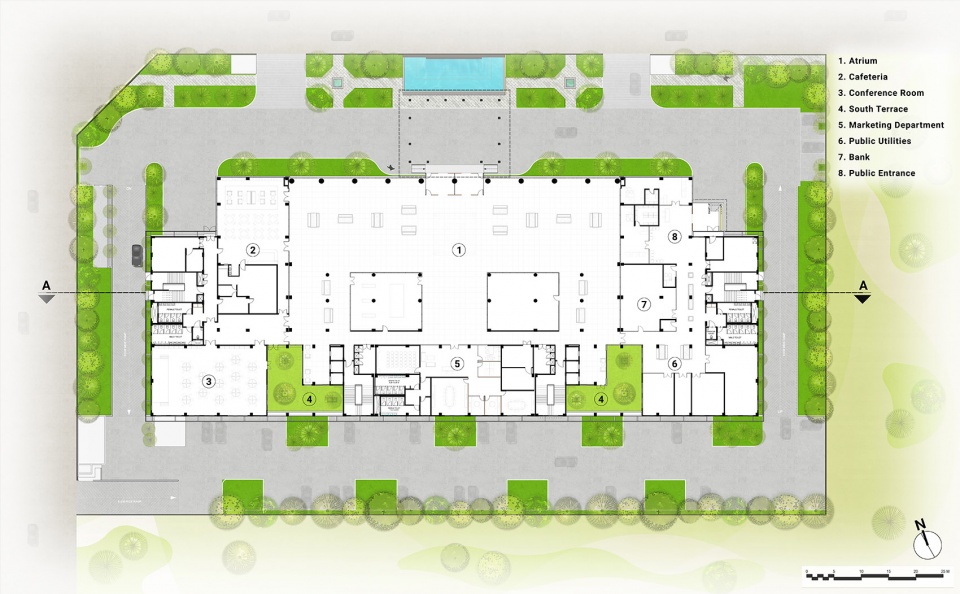 First Floor Plan


Elevations
标签
# Architecture Design
# 公共空间
# 商业建筑
# 办公建筑
About author
Comment
Case recommendation

More

(0)